Planning for catastrophes
Proper planning is key to providing an effective and rapid response to catastrophic events.
At Hausch & Company, that means incorporating mapping of real-time weather analytics into the client's claims management process. The use of that pre- and post-catastrophe aerial imagery aids in assessing risk, evaluating the damage, and determining resource deployment.
"We take the forecasting to a very personal level with our clients," said David Hausch, President.
According to the NOAA National Centers for Environmental Information, the U.S. has sustained 273 weather and climate disasters since 1980, where overall damages/costs reached or exceeded $1 billion (including CPI adjustment to 2020). The total cost of these 273 events exceeds $1.790 trillion. Since early July, there have been ten weather/climate disaster events with losses exceeding $1 billion each to affect the United States, which resulted in the deaths of 80 people and had significant economic effects on the areas impacted. (Source: https://www.ncdc.noaa.gov/billions/)
Real-time weather insights
With the peak of hurricane season (August through October) on the horizon, advance preparation is critical to CAT handling success.
Hausch & Company's access to real-time insights during a major event helps paint a clearer picture for clients of their risk exposure.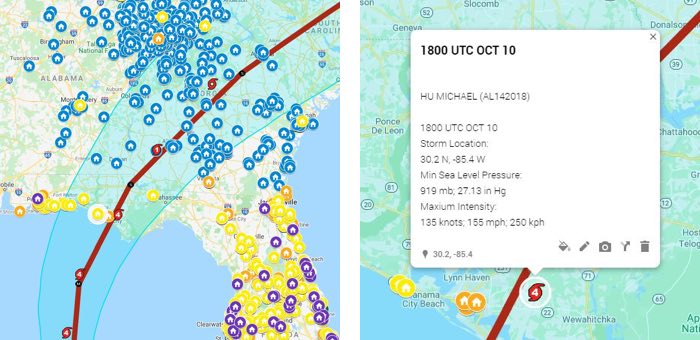 "If they don't have access to this and there's a storm coming, they're blind to the data," said Hausch. "We can plot their Policies In Force, and provide forecasting information in a visual report. We use that data to train and deploy our field staff.
Our guarantee to our clients is to deliver on the promise of service. The main component of that promise is deploying our partners in the field as safely and efficiently as possible."